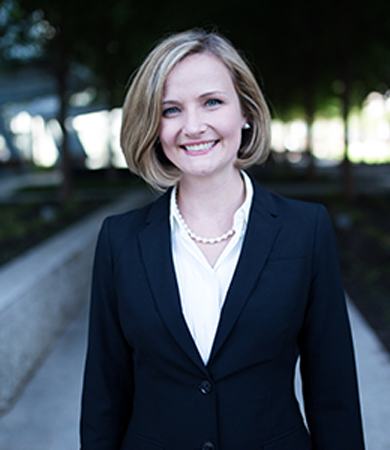 Ashley A. Warshell
Ashley A. Warshell practices in the areas of contract drafting and negotiation, civil litigation, estate planning, real estate, consumer financial services law, regulatory compliance, and debtor/creditor law.
She is a member of the Oklahoma County and Oklahoma Bar Associations and is admitted to practice before the United States District Court for the Western District of Oklahoma and all Oklahoma state courts. Ashley has a background in banking and has served as a compliance officer and vice president of Home Savings and Loan Association of Oklahoma City, as well as a director on the boards of both for-profit and nonprofit organizations.
She has experience with Bank Secrecy Act auditing and has been certified by the National Association of Federally-Insured Credit Unions ("NAFCU") as a NAFCU Certified Compliance Officer.


Contract Drafting & Negotiation
Civil Litigation

Estate Planning

Real Estate
Consumer Financial Services Law

Regulatory Compliance

Debtor/Creditor Law


Oklahoma City University School of Law


Oklahoma County Young Lawyers Board of Directors (2015-2018)

Oklahoma County Young Lawyers Treasurer (2017-2018)

Article 9 Legislative Review Subcommittee of the UCC Committee of the Oklahoma Bar Association (2014)
Terrell Monks and Ashley Warshell, Due Process and Best Practices in Oklahoma Probate, 87 Okla. B.J. No. 5 (2016).
Ashley Warshell and Terrell Monks, Due Process in Tax Sales, 86 Okla. B.J. No. 30 (2015).
David Davis, Terrell Monks and Ashley Warshell, Municipal Codification Requirements and the Consequences of Noncompliance, 86 Okla. B.J. No. 7 (2015).
Ashley Warshell and Alvin C. Harrell, Dewsnup III: Bank of America v. Caulkett, 68 Consumer Fin. L.Q. Rep. 466 (2014).
Ashley Harrell, Mortgage Rescue Fraud and the Subsequent Purchaser, 64 Consumer Fin. L.Q. Rep. 387 (2010).