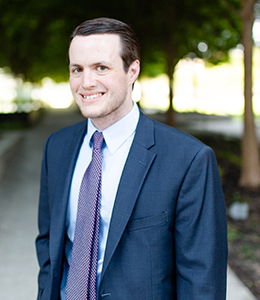 A.J. Reding
A.J. Reding was admitted to practice in September of 2015 and joined the firm of Hall & Ludlam in November of 2017. He received his undergraduate degree from Berklee College of Music, Boston, MA, in 2007 graduating Magna Cum Laude. He received his Master of Business Administration Degree and Juris Doctorate in May 2015, from the University of Oklahoma. He was a member of the Dean's Honor Roll at the University of Oklahoma College of Law.
Mr. Reding has a vast and diverse amount of law experience. Currently, his main focus is in commercial litigation while also working in oil and gas litigation. Mr. Reding has experience in insurance defense, consumer litigation, and general practice. While in law school, he interned at a Plaintiff's litigation firm for 2 years and handled many aspects of a wide variety of cases including oil and gas law, secured transactions, and corporations.
Previously, as a Licensed Legal Intern for the Utilities Unit of the Oklahoma Attorney General's Office, Mr. Reding assisted in several state matters including the billion-dollar OG&E rate case. He accumulated additional experience as a landman where he photographed and prepared land indexes, as a land curative title agent where he researched land records for subordination agreements, and as a Deputy Marshal for the Norman Municipal court where he assisted the court and negotiated payment plans. As a Licensed Legal Intern for the OU Criminal Legal Clinic, he represented clients pro bono in criminal cases.
Outside of practicing law, Mr. Reding enjoys keeping his creative side fresh by playing guitar at every opportunity.
Mr. Reding Is eager to utilize his diverse experience to help the firm's clients obtain the best results possible.
Commercial Litigation
Oil and Gas Litigation
Insurance Defense
Consumer Litigation
General Practice
Criminal


The University of Oklahoma College of Law, Juris Doctorate, 2015
The University of Oklahoma, Price College of Business, Master of Business Administration, 2015
Berklee College of Music, Boston, M.A, Bachelor of Music (Magna Cum Laude) 2007