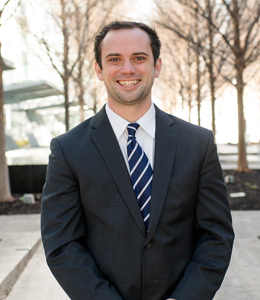 Kyle Puckett
Kyle Puckett was admitted to practice in September of 2019. He grew up in in Edmond Oklahoma where he attended Edmond Memorial High School, graduating in 2012. During High School he was a member of one of the first youth rowing teams at the OKC boathouse and achieved the rank of Eagle Scout in the Boy Scouts of America. He graduated Cum Laude from the University of Oklahoma with majors in Letters and Political Science and minors in Economics and Constitutional Studies. Kyle graduated with distinction from the University of Oklahoma College of Law in May 2019, where he was a member of the Dean's Honor Roll.
Kyle has diverse legal experience. His current focusses are commercial litigation and debtor/credit law. Before joining Hall & Ludlam in November 2019, he practiced with a Norman oil and gas law firm. During law school, Kyle worked as a Licensed Legal Intern for an insurance defense law firm. He has experience in oil and gas litigation, class action lawsuits, criminal prosecution, corporate law, estate planning, and Indian Law. He is also a licensed mediator. In law school, Kyle was honored for pro bono services assisting pro se litigants and working with Legal Aid Services.
Kyle lives in Oklahoma City. During his free time, Kyle enjoys spending his time with his family and getting out in the great outdoors.
Kyle is Licensed to practice law in the State of Oklahoma. He belongs to the Oklahoma Bar Association.