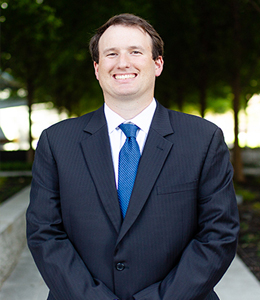 SPENCER T. HABLUETZEL
Spencer Habluetzel joined the firm of Hall & Ludlam, PLLC as an associate attorney in May of 2017. He earned a Bachelor of Science in Mathematics and Psychology in 2009 as well as a Master of Science in Mathematics in 2011 from Stephen F. Austin State University in Nacogdoches, Texas.
After earning his graduate degree, he graduated from Oklahoma City University School of Law in 2014. During law school, Spencer served on the board of the Oklahoma City University Law Review and was awarded Editor-in-Chief award for outstanding service. During his tenure, he also authored a published article, "Is Your Shotgun Sporting?"
Since graduating, Spencer has worked in civil and appellate litigation. He has been a member of the Oklahoma County Bar Association and the Oklahoma Association of Justice since 2015. He enjoys learning about the law and researching answers to the variety of legal and practical issues that arise in his practice.

Civil Litigation
Appellate Litigation


Stephen F. Austin State University, B.S., 2009
Stephen F. Austin State University, M.S., 2011
Oklahoma City University School of Law, J.D., 2014

Oklahoma, 2014
USDC, OKWD 2015
USDC, OKED 2016
US Court of Appeals, Tenth Circuit, 2017